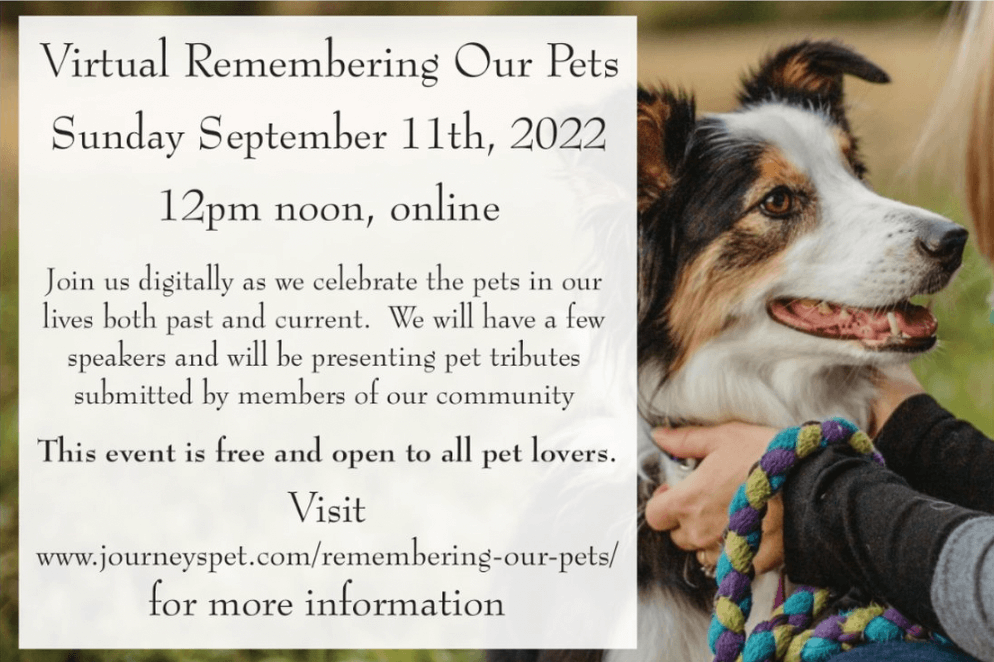 Sunday September 11, 2022
Online at noon.
FREE virtual event, open to all pet lovers.
Join us digitally as we celebrate the pets in our lives both past and present. We will have a few speakers as well as display pet tributes submitted by members of our community.
We invite you to submit a pet video (2 min or less), photos or a written remembrance for the event where they will be incorporated into the event presentation. To do this, fill out our event submission form and (optionally) add your photos.
Don't know where to start on how to commemorate your loved one? We recommend trying free apps for IOS and Android like: Snapspeed, VSCO, Adobe Photoshop Express, Live Collage – photo collages. We can't wait to see what you create.
Tributes submitted through Thursday Sept 8 will be included in the live presentation. Tributes submitted after Thursday may be instead posted to social media and/or our web page.
Here's the event for a link to the Live Zoom Webinar: https://us02web.zoom.us/j/89049344832

Or watch our Facebook livestream instead: https://fb.me/e/1UJ2iZ5YO

We hope to see you there!
In honor of
National Pet Memorial Day
, we are proud to sponsor the 9th annual "Remembering Our Pets" event, hosted by Journeys Home and Memorial Pet Services. The ceremony is a loving way to honor pets that are no longer with us, and a way to celebrate the wonderful companion animals currently in our lives.
Please join us as we celebrate the pets in our lives we have loved. We will have a short memorial ceremony and share pet memories.  This event is free and open to all pet lovers. Feel free to invite anyone who could benefit from being with a community of people to support them during their healing period.
Join us! Let's celebrate of the lives of our pets.
Don't want to use Zoom?
Tune in on our Facebook page for a livestream of the presentation instead:
Pictures and videos from past live events: 2020, 2019, 2018, 2017,  2015, 2014 & 2013
National Pet Memorial Day was created in 1972 by the International Association of Pet Cemeteries in recognition of the importance of remembering beloved lost pets.
The day is always celebrated on the second Sunday in September.
Our pets spend their love and their lives devoted to us. Each of our pets have blessed us with a very special relationship. By being in relationship with us, they have given their love and joy to us to share, and even though their physical bodies may be gone, the love and joy stays with us. We cherish and remember them, and share our memories today, on National Pet Remembrance Day. So today, my question is how has your pet blessed you?

– Katie (full speech)